Dynamic Leadership
Executive Overview
The enclosed training program has been developed for those who are already in a leadership position and are looking for strategies and tools to lead in a changing business environment. The equivalent of a three-day leadership training session which can be scheduled consecutively or as a longer delivery, with time for strategy and skills practice. The course will have participants focusing on developing successful leadership skills and practices as it relates to the daily interactions between managers, their direct reports, peers and client stakeholders. The entire program and process are designed to support and accomplish the Primary Objectives as outlined below.
Primary Objectives
Delta Synergy is confident that this Leadership development plan will create the expected results and return a measurable benefit to our clients. Every component of the program and process has been developed to support and accomplish these Primary Objectives:
To allow the identified managers to develop skills and strategies for quality communication that will measurably increase their effectiveness with direct reports and additional stakeholders/clients.
To provide managers with tools to confidently interact where the atmosphere may be tense or antagonistic (conflict resolution).
Continuing to build upon the emphasis of Outcome Focused interactions (offering suggestions and solutions) with and between workplace relationships.
To impart strategies for coaching and influence in managing the day to day business projects.
Program Agenda:
Setting the Stage (15 Minutes)
Objectives: To set the stage for the training session and allow the participants to interact with each other to increase comfort levels.
To introduce the facilitation team and the training agenda.
Method: Initial introduction and opening remarks; warm up (icebreaker) activities
Outcome: The team will develop a greater level of comfort and interaction with each other and begin the session on an energetic and positive platform.
"What's My Leadership Style?" Workshop (2.5Hours)
Objectives:
To identify the individual participant's preferred styles of leading others.
To understand style strengths and weaknesses as they relate to interacting with others' styles.
To learn how to "flex" each style in order to become more effective situational leaders.
Method:
A development workshop utilizing an assessment tool that will allow each participant to develop insight into their preferred style of leadership and communication. By recognizing and understanding vital behaviour cues, one can begin to adjust from their preferred style to one that will be a better fit to the situation.
The workshop will be supported by several activities to illustrate the theory and learning outcomes. Participants will be able to keep their workbooks for future reference and application.
Outcome:
With increased awareness of their personal style and a practical mental framework to build upon, aspiring leaders can assess and adjust their actions, interpret the behaviour of others, and improve their ability to win hearts and minds in any situation calling for effective leadership. This will effectively help employees:
Identify personal leadership styles
Learn how to capitalize on style strengths
Discover how to minimize style trouble spots
Learn how to "flex" personal style to interact most effectively with others
Break (15 Minutes)
Communication Exercises
A series of interactive challenges designed to test the theory and application of Leadership Styles and how one can influence interaction. These may include:
Leading "Down the Line" (45 Minutes)
Objectives:
To allow team members to work through a challenge where not all team members have direct input.
To create an opportunity for individuals to recognize different communication styles and attempt to "match up" with these styles.
Method:
"Traffic Jam" –This activity highlights team performance elements of valuing different communication styles, leading without always having the 'best view' of all final answers, engaging participants at various 'positions' of information, and using style strengths across the group for success.
This is a powerful team challenge where the group is set up in a linear format which provides an immediate challenge. The group must 'switch sides' to be successful in the challenge. To accomplish this task, the group must adhere to several specific rules/guidelines for allowable moves on their way. If they get 'stuck' or make a move that does not fit the guidelines, they must start again from their original positions.
Suggested Debrief Questions:
How did you manage your position when having a limited perspective of what was going on?
What was it like at the end of the line? How do you engage people at the 'end of the line' at work?
How did you overcome communication barriers?
Did leadership styles emerge? How did you leverage these styles for success?
Lunch (1 Hour)
8 Essential Leadership Skills You Need to Lead a Successful Team (3 Hours)
"Your job is to help your people succeed and achieve their goals. But being a great leader isn't something you can easily pick up and just start doing. Like any other skill, you have to work on it!".
Method:
A presentation and discussion of the following leadership skills:
Making your people feel "safe" at work.
The ability to be flexible – You can change your mind.
Understanding the importance of team bonding.
Being Empathetic
The ability to challenge your team.
Not letting emotions influence decision making.
Being Transparent.
Acknowledging and Celebrating performance.
Outcome:
Participants will gain insight and understanding on how to apply these skills to their own workplace teams. Peer opinions and experience are leveraged along with frank discussion on how these skills can be applied for benefit. Finally, strategies are formulated to recognize where and when to apply these skills.
Review and Debrief: (45 Minutes)
A review of the day's material is conducted to identify the most useful and relevant information. Situational recognition and application are documented to be included in the learning publication created at the end of the training workshop.
Day 2:
Recap and introduction of the day's agenda (30 Minutes)
Introducing the Situational Leadership Model (2.5 Hours)
Situational Leadership® is flexible. It adapts to the existing work environment and the needs of the organization. Situational Leadership® is not based on a specific skill of the leader; instead, he or she modifies the style of management to suit the requirements of the organization.
One of the keys to Situational Leadership® is adaptability. Leaders must be able to move from one leadership style to another to meet the changing needs of an organization and its employees. These leaders must have the insight to understand when to change their management style and what leadership strategy fits each new paradigm.
This model is based on the work done by Blanchard and Hersey. Their theory is based on two concepts: leadership itself, and the developmental level of the follower.
Blanchard and Hersey developed a matrix consisting of four styles:
Telling leaders = S1 (specific guidance and close supervision): These leaders make decisions and communicate them to others. They create the roles and objectives and expect others to accept them. Communication is usually one way. This style is most effective in a disaster or when repetitive results are required.
Selling = S2 (explaining and persuading): These leaders may create the roles and objectives for others, but they are also open to suggestions and opinions. They "sell" their ideas to others in order to gain cooperation.
Participating = S3 (sharing and facilitating): These leaders leave decisions to their followers. Although they may participate in the decision-making process, the ultimate choice is left to employees.
Delegating = S4 (letting others do it): These leaders are responsible for their teams but provide minimum guidance to workers or help to solve problems. They may be asked from time to time to help with decision-making
Stages of employee development in Situational Leadership®
Along with leadership qualities, Blanchard and Hersey defined four types of development for followers or employees:
Low Competence: High Commitment
Some Competence: Low Commitment
High Competence: Variable Commitment
High Competence: High Commitment
Blanchard and Hersey also suggest that each of the four approaches should be paired with different "readiness levels" among team members. For example, the lowest readiness level (R1) should work best with the "telling" style (S1), while the highest readiness level (R4) should be most responsive to the "delegating" approach (S4).
Differences between Situational Leadership® and other leadership styles
The difference between Situational Leadership® and other leadership styles is that Situational Leadership® incorporates many different techniques. The style of choice depends upon the organization's environment and the competence and commitment of its followers.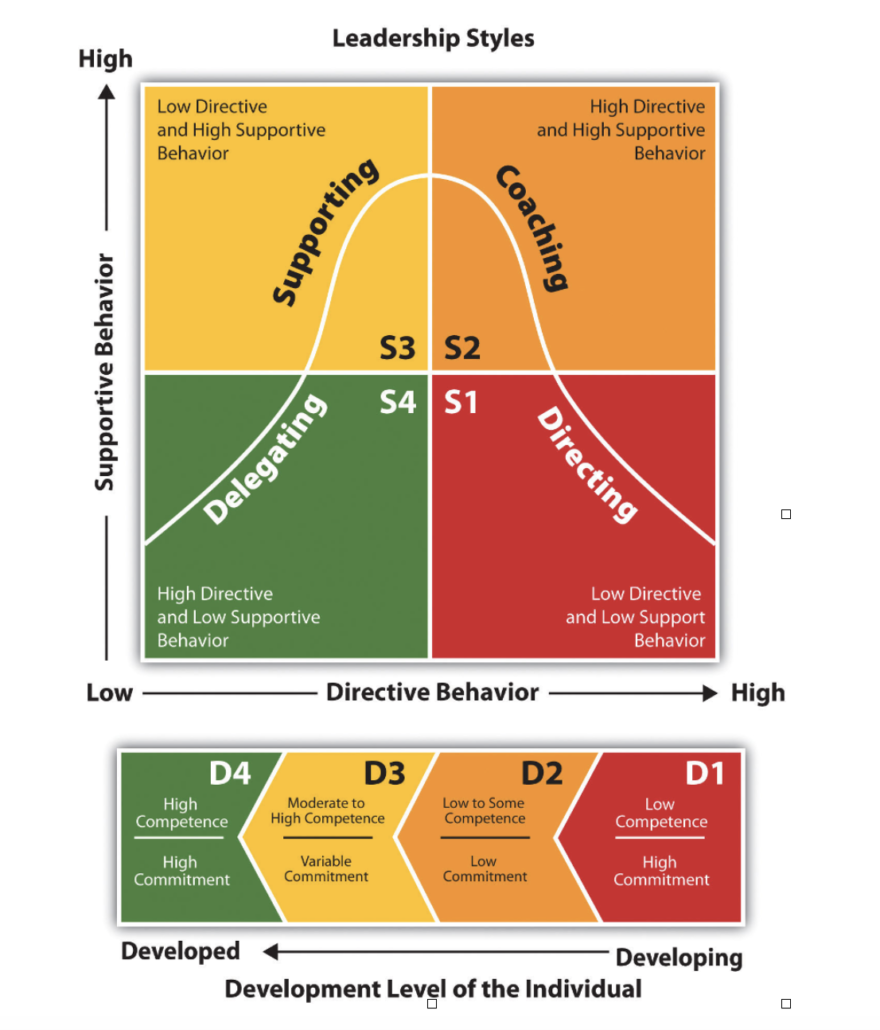 Break (15 Minutes)
Situational Leadership Case Studies (1 Hour)
Participants are divided into groups of 2 or 3 and each given a case study to examine. In each case they are required to review the situation and identify the current state of the individual or team according to the situational leadership model. Groups will then need to develop the correct situational leadership strategy and actions for the situation and predict the outcome.
After all groups complete the case study, they are reviewed by the entire workshop with evaluation and discussion.
Lunch (45 Minutes)
Exercise – Stranded in Grizzly Country (2.5 Hours)
Objectives:
To encourage individuals to identify and apply the most appropriate situational leadership style in an everchanging environment.
To bring individuals together in a community work environment to identify how individual strengths, skills and experiences may be utilized in both the group and individual problem-solving process.
To identify and to utilize the basic components for success is the effective daily practice of "teaming" back in the workplace.
The Scenario:
On your way to a National Conference titled "Communication – Leadership and You" you are involved in an unexpected landing in a remote area of the Rocky Mountains. The plane's Captain and Co-Captain are nowhere to be found and only the flight crew seem to have come through the crash relatively unscathed due to the quality of their restraining straps. The only serious injury seems to be that all the crew was blinded by a bright flash upon impact
All passengers who survived did not have the same quality of seatbelts and therefore have lost the use of their legs. The passengers seemed to have collected themselves into several groups for warmth and comfort. However, since the crash site is strewn with debris, the passengers cannot move unaided from their groups for fear of further injury. The crew can move freely about but require the guidance of those who have their vision intact.
There are several responsibilities that must be completed within the requisite time frame to ensure the whole group's survival. These are:
1) To construct and present two tents before members of the survivor group begin to freeze to death. This will occur at nightfall (which sets in 1 hour after activity commencement).
2) To erect a barricade to standard around the perimeter of the crash site to ward off Grizzly Bears who come down from the hills to forage for food at dusk (dusk sets in at 1 hour after activity commencement).
3) To locate and assemble the radio transceiver in time to coordinate with the satellite position overhead to contact the proper authorities. (The satellite has a window for transmission 1 to 1:15 hours after program commencement).
4) To find and assemble the transmitting dish to send and receive messages. The dish must be erected at least 20 feet away from the radio transceiver and must be completed at the same time as the radio transceiver.
Observations/ Guidelines:
1) All of the necessary equipment for proper assembly and operation of all items in the tasks were on the plane and scattered amongst the crash site.
2) No outside resources are to be utilized.
3) The assembly directions and other information are also present in the crash site.
4) All equipment must be gathered by the crew. (No reaching for items on the part of the passengers).
5) All people will not fit into the tents so those outside the tents may remain safe by either remaining in physical contact with the tents or the survival blankets.
6) In order to safely transport passengers to the tents, passengers will temporarily regain the use of their legs but must be accompanied by at least two crewmembers.
7) Severely bending or departing with the scenario may result in triggering catastrophic events, which could seriously jeopardize a successful outcome to the scenario.
Suggested Debrief Questions:
1) Were we successful in this exercise? How do we know?
2) Can we identify when "Situational Leadership" strategies were used?
3) What was the degree of success in applying these strategies?
4) What role did communication play in contributing to our success?
6) What type of shift or change needed to take place before success could be realized?
8) How can we utilize change to our advantage?
Break (15 Minutes)
Review and Debrief: (1 Hour)
A review of the day's material is conducted to identify the most useful and relevant information. Situational recognition and application documented to be included in the learning publication created at the end of the training workshop.
Day 3:
Recap and introduction of the day's agenda (30 Minutes)
Effective Communication in Leadership (1.5 Hours)
Introduction and review of various forms of workplace communication:
In each case, the type of communication is defined by its action and effect. Discussion will focus on the challenges that each form can present. The group will discuss and collectively decide the preferred guidelines in each type of communication to ensure pitfalls are avoided and a commitment to consistency within the organization is established.
Break (15 Minutes)
The Leader's Role in Resolving Conflict (2 Hours)
Understanding Conflict
Definition of conflict
Understanding sources of conflict
Positive and negative outcomes of conflicts
Developing Conflict Resolution Skills & Tools
Specific conflict resolution skills will be introduced and practiced. The choice of these will be determined by the specific client needs but may include, mediation, listening skills, voice mirroring, ladder of inference, circles of control. All are introduced in an experiential, participative manner.
General Application – Conflict Case Study
Participants will engage in dialogue and analysis of a conflict case study. The study will be drawn from current events and/or a source relevant to the specific client group. Situational evaluation, identification of conflict type and recommended strategies for solution will allow participants the opportunity to apply the learning.
Lunch (1 Hour)
Leadership and Change Management (1.5 Hours)
Objectives:
To allow participants to acquire insight and knowledge of the behaviour model of change management.
To create a positive attitude towards change.
To develop strategies for supporting individuals and teams as they move through the various stages of change.
Method:The "Change Maze"activity which is designed to illustrate how individuals travel through the Change Behaviour Model. Participants will be faced with an activity that will feature several change components. Participants will learn to identify the various stages of managing change from a behavioural perspective and then identify strategies for support and direction back in the workplace.
Outcome:
Participants will recognize the various stages of change and how individuals will navigate these stages at different speeds. Strategies for coaching and support are introduced for the Leader to apply according to the individual's situation and needs.
Break (15 Minutes)
Leadership and Coaching (2 Hours)
Any leader will tell you that if you want to have a successful company, you need to surround yourself with the right people. You need people that don't come to work just to collect a paycheck but believe in the mission of the company and strive to make a difference. In addition, it's also important to build people up and develop them through one-on-one coaching.
Be Supportive
Define the Topic and Needs
Establish Impact
Initiate A Plan
Get A Commitment
Confront Excuses/Resistance
Clarify Consequences, Don't Punish
Don't Give Up on Them
Outcome: Participants will have acquired the essential and common framework to conduct formal and informal coaching for their direct reports.
Review and Debrief: (1 Hour)
Method:
Participants will be asked to identify one or more strategies from the previous sessions they would like to develop and implement. A worksheet is provided for each strategy, so participants may document and record the results for ongoing feedback and as data for the 60-90 day follow up session.
Outcome:
Participants will have identified specific skills and strategies they will individually apply in their workplace settings. Actions leading to success are documented along with continued challenges which are equally valuable. Participants will be encouraged to reach out to their peers for additional insight and assistance (further developing organizational commonality).
Fee: $895.00/participant + educational materials and Taxes TOTAL Instructional Hours: 22.25